Background
The IKEA store in Ballymun was constructed in 2008 and comprises a two storey steel frame structure over a partially enclosed ground level parking area on a 12.6 hectare site. The store has a total floor area of 30,598m2. The IKEA development, as part of the planning process, had to reduce carbon emissions by 60% as stated in the local government's Technical Guidance Document, and generate 30% of onsite renewable energy.

IKEA store in Ballymun
Clearpower Solution
The 650kW Heizomat woodchip boiler, wood shredder and woodchip store provided by Clearpower provides domestic hot water and space heating for the store. The boiler is housed next to the loading bay/recycling centre to the rear of the building. Here, all waste wood, from pallets and damaged furniture are manually fed into a shredder. The woodchip produced is then conveyed via belts to a holding silo. From there, it is augured into the boiler as required. The system runs on both waste wood and virgin wood. During winter, the waste wood produced on site is insufficient to meet the store's heating needs and is therefore supplemented by virgin woodchip provided by Clearpower. In the summer, there is more waste wood produced than required and so the woodchip silo is filled for the winter. If the fuel reaches a top level sensor, the boiler is automatically started and heat produced is sent to roof top radiators. IKEA has entered into a long term contract with Clearpower for system maintenance and virgin wood fuel.
The main elements of the installation are:
650kW RHK AK 650 Heizomat woodchip boiler
190m3 woodchip silo with false floor + fuel extraction + associated augers
Untha LR1400 shredder
Shredder out feed conveyor
Over band nail removal device
650kW blast cooler
Wood chip blower
Benefits
Within the first month of opening, the store achieved recycling rates of 90% thanks primarily to the biomass boiler fuelled exclusively from onsite timber waste. By using recycled woodchip the store achieved a payback on the biomass installation investment of less than 2 years and saves 230 tonnes of CO2 per annum. The annual energy consumption for domestic hot water and space heating is 1.2 GWh. The biomass boiler also assisted in meeting local government planning requirements.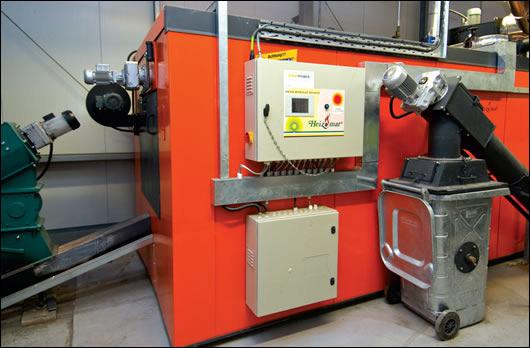 Heizomat RHK AK 650 boiler at IKEA